This page only has Dutch navigation. Press the English flag to return to the English part of this website
Fotoverslag korte reizen
Van de kortere reizen maken we een fotoverslag in plaats van een blog. Dit is een korte impressie van wat u zoal ter plaatse kunt doen aangevuld met wat praktische informatie. Aangezien we enkel de plaatsen beschrijven waar we zelfs geweest zijn is dit geen volledig overzicht van alle toeristische mogelijkheden. Onze fotoverslagen zijn 2-talig (Nederlands en Engels). Wij hopen dat onze fotoverslagen u zullen inspireren.
Photo report short trips
From short trips we will create a photo report instead of a blog. This is a short impression of interesting sights and activities. As we will only list the places where we have been ourselves this list will not be a complete overview of all touristic possibilities. Our photo reports are 2-lingual (Dutch and English). We hope our photo reports may inspire you.
Turkije Bodrum Schiereiland 2019
26 mei - 3 juni
1. Turgutreis - 2. Gümüslük - 3. Yalikavak - 4. Bodrum - 5. Aquarium Bay - 6. Pamukkale- 7. Laodikea -
8. Aphrodisias
Alle plekken bezocht met een huurauto en vanuit ons hotel in Turgutreis
1. Turgutreis
Badplaats met een leuke wandelpromenade en een klein winkelcentrum. Hoewel je langs de kust vele hotels in alle prijsklasses vindt is het toerisme is er minder massaal dan in bijvoorbeeld Gümbet of Bodrum. Hoewel slechts 20 km van Bodrum is het met de auto nog zo'n 45 minuten vanwege het drukke verkeer en de vele verkeerslichten. Iedere zaterdag is er markt (achter de moskee).
2. Gümüslük
Klein vissersdorpje gelegen aan een kleine baai. In het dorpje zijn vele goede restaurantjes en het is een van de beste plekken om verse vis te eten. The terrassen hier zijn weelderig versierd met kleurrijke bloemen. Het mooiste terras vind je uiterst rechts (wanneer je met je gezicht naar de zee staat). Na het laatste restaurant passeer je een stukje strand en enkele huizen. Het restaurant, "Melengec" genaamd, vind je na de bocht. In de baai tegenover het dorp ligt Rabbit Island. Ooit kun je over de oude ondergelopen paden naar het eiland lopen maar vanwege archeologische activiteiten is dat nu verboden. Het huidige Gumusluk is gebouwd op de overblijfselen van Myndos, een oude stad uit de 4e eeuw voor Christus en die door een aardbeving in zee is gezonken. Wanneer je gaat snorkelen in de baai kun je nog steeds de overblijfselen van Myndos zien liggen.
4. Bodrum: Grootste stad op het schiereiland. De grootste trekpleisters zijn de oude stad waar je een wirwar van kleine autovrije straatjes vindt en de grote jachthaven. In het hart van dit alles staat de Burcht van St. Petrus die nog stamt uit de tijd van de Middeleeuwen.
Voor liefhebbers van de lokale markten is de markthal naast het busstation een aanrader. Op dinsdag is hier een kledingmarkt en op vrijdag vind je er een oneindig aanbod van groente en fruit.
Turkey Bodrum Peninsula 2019
26 May - 3 June
1. Turgutreis - 2. Gümüslük - 3. Yalikavak - 4. Bodrum - 5. Aquarium Bay - 6. Pamukkale- 7. Laodikea -
8. Aphrodisias
All places visited with our rental car from our hotel in Turgutreis
1. Turgutreis
Beach resort with a nice boardwalk and a small center. Along the coast are lots of hotels for each budget but overall it is much less massive than in places like Bodrum of Gumbet. Altough only 20 km from Bodrum the trip will take you about 45 minutes by car because of the heavy traffic. Every Saturday there is a market (behind the mosk).
6. Pamukkale
Een mooie uitstapje is een excursie naar Pamukkale. Heb je je eigen (huur)auto dan is het aan te raden om de ene dag heen te rijden, in Pamukkale te overnachten en de volgende dag weer terug te rijden. Je hebt dan alle tijd voor de heen en terugreis, de mogelijkheid om Pamukkale ook aan het begin van de avond te bezoeken wanneer de meeste bezoekers weer weg zijn en het licht op zijn mooist is en bovendien extra ruimte om in de omgeving van Pamukkale ook nog andere bezienswaardigheden te bezoeken.
Pamukkale is een natuurfenomeen op ca. 4 uur rijden (280 km) vanaf Bodrum. Al sinds de oudheid stroomt hier warm kalkhoudendwater uit natuurlijke bronnen langs de berg naar beneden. De kalkafzettingen die achterblijven hebben witte terrassen gevormd. Het is ook dit fenomeen waar Pamukkale dat "katoenen kasteel" betekent zijn naam aan dankt.
Nabij de terrassen vind je ook de ruines van de oude stad Hierapolis. Het meest indrukwekkende bouwwerk is het theater dat nog voor een heel groot deel intakt is. Van de vele theaters de we op onze reizen hebben bezocht was deze verruit het mooist.
TIP: Er zijn 3 ingangen (noord, zuid en midden). De noordelijke ingang is het meest ideaal voor een bezoek aan Hierapolis en de terrassen. Wanneer je in het stadje blijft overnachten is het een aanrader om zo'n 1 - 1,5 uur voor sluitingstijd de terrassen nog een keertje vanuit de middelste ingang te bezoeken. De laaghangende zorgt voor mooie plaatjes op dit tijdstip van de dag. Vraag vooraf even tot hoe laat ze open zijn. In mei 2019 was het tot 20:00 uur geopend.
Note 1: Een entreebewijs is de hele dag geldig en biedt dus de mogelijkheid om later op de dag via een andere ingang het terrein nogmaals te bezoeken. Vaak probeert men je een nieuw kaartje aan te smeren, maar dat is dus niet nodig. Gewoon voet bij stuk houden.
Note 2: Het is verboden om met schoenen of slippers over de terrassen te lopen. Alle schoeisel moet daarom uit. Je kunt dit achterlaten bij binnenkomst of meenemen in een tas (die je zelf moet meebrengen).
Note 3 voor overlanders: Tegenover de middelste ingang achter het zwembad is een goede kampeermogelijkheid!
Tip overnachting: Sinter Terasse House Hotel. Gezellig en brandschoon guesthouse op loopafstand van de hoofdstraat. Het ontbijt dat bij de prijs is inbegrepen is top. Indien gewenst kun je hier ook je avondmaaltijd nuttigen. Als je dit vooraf aangeeft zal de vrouw des huizes die een voortreffelijke kok is een heerlijk dinner voor je maken (evt vegetarisch op verzoek). Het diner is echt een aanrader.
Route: vanaf Bodrum zijn er twee hoofdroute.
1. Via Mugla/Kale
2. Via Cine
Wij hebben beide routes gereden en vonden de route via Mugla/Kale mooier en prettiger (veel rustiger verkeer).
7. Laodikea
Niet ver van Pamukkale ligt Laodikea, een stad uit de oudheid, en een van de 7 kerken die genoemd wordt in de Bijbel in het boek openbaring. Hoewel opgravingen en renovaties zijn nog volop aan de gang is het een bezoek zeker waard.
8. Aphrodisias
Onderweg naar of van Pamukkale is het slechts een kleine stukje om naar de ruines van Aphrodisias. Nog een stad uit de oudheid. Deze plaats, die ook op de Wereld Erfgoed lijst staat is gigantisch en bevat onder andere een theater, een arena, een zwembad en de beroemde tempel van aphrodite, godin van de liefde. Ook het museum dat een indrukwekkende verzameling beelden bevat is bijzonder interessant en zeker een bezoekje waard.
2. Gümüslük
Tiny fishing village situated at a small bay. There are many good restaurants here and it is the place to be for eating fresh fish. The terraces here are decoreted with lots of flowers. By far the most impressive one is the place the furthest to the right (when you face the ocean). After the last restaurant you need to pass some houses and a few meters of beach. The restaurant is located just around the corner. Opposite the village is rabbit island. Once you could walk the old submerged walkway to the island but due to archeological activities this is forbidden now. Modern Gumusluk is built on the remains of Myndos, an old town that already existed in the 4th century before Christ and sunk into the sea after an earthquake. When you go snorkling in the bay you can still see the remains of Myndos.
3. Yalikavak: Leuk stadje in het noorden van het schiereiland. Dankzij de nieuwe hypermoderne jachthaven doen vele luxe jachten het plaatsje aan. Het stadje heeft een leuk centrum van met wat kleine winkeltjes waar de verkopers een stuk minder opdringerig zijn dan elders op het schiereiland. Iedere donderdag is er nog markt en de bazaar is de grootste van het schiereiland. Volgens de reisgidsen is Yalikavak bovendien de enige plek in het Middellandse-Zeegebied waar je de beschermde Monacus Monacus zeehond nog kunt vinden.
TIP: Een van onze favoriete plekjes is het verhoogde schaduwrijke terras van restaurant Dede waar het vooral bij heet weer heerlijk toeven is.
3. Yalikavak: Nice little town in the north of the peninsula. Thanks to a ultramodern harbour lots of luxurious yachts visit the town. The place has a nice center with small shops where the owners are not as pushy als elsewhere on the peninsula. Every Thursday there is a market which is the largest bazar on the peninsula. According to the travel books Yalikavak is also the only place in the Mediterranian where you can still find the protected Monacus Monacus seal.
TIP: One of our favorite places is the elevated shady terrace of Restaurant Dede where you can escape the hot weather.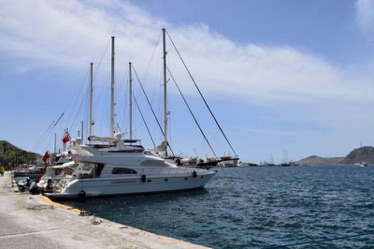 4. Bodrum: Largest town on the peninsula. The main attractions are the old town where you find a labyrinth of small car free streets and a huge harbour. At the hearth of it is the castle of St. Peter which dates from the Middle Ages. For those who like local markets the Market Hall next to the busstation is a good place to visit. On Tuesdays there is a clothes market and on Fridays a fruit and vegetable market.
5. Aquarium Bay: Prachtig omsloten baai met kristal helder water. Volgens de mannen die boot- en snorkeltrips aanbieden kun je er alleen met een boot komen maar dat is niet waar. Wanneer je een flinke hike geen bezwaar vindt kun je er ook zelf naar toe gaan. Het is een mooie wandeling van circa 1 uur. Onderweg passeer je diverse baaitjes waar je even kunt pauzeren.
Hoe kom je er?
1. Rijd naar de haven van Bitez en parkeer hier je auto.
2. Van de haven zijn twee wandelroutes (aangegeven met een bord). Volg de lange route (3 km). De korte gaat direct de heuvel over, maar dit pad wordt al snel onbegaanbaar.
3. Net voorbij de haven moet je langs een oud hek. Hier begint het wandelpad. Blijf vanaf hier het pad volgen (de zee is voortdurend aan je rechterhand).
4. Op een gegeven moment buigt het pad naar links en verlaat je de kust. Je loopt nu heuvel op naar de andere kant van het schiereiland. Bovenop de heuvel staat een witte cisterne.
5. Vanaf de cisterne volg je het pad naar links. Aan het einde van het pad is Aquarium Bay.
Note: Er is hier helemaal niets, dus neem alles zelf mee (water, eten etc.). Met uitzondering van 1 enkele boom is er ook verder geen schaduw.
Tip: Sommige afslagen zijn gemarkeerd met een rood kruis. Laat je er niet door weerhouden. De afslagen eindigen soms bij een prachtige zwemplek. Enige minpuntje.... er is veel vervuiling op de stranden.
5. Aquarium Bay: Beautiful secluded bay with christal clear water. According to the boat companies it is only accessible by boat but this is not true. When you do not mind a short hike you can also get here on your own. It is a nice 1 hour walk with some nice bays to take a break along the way.
How to get here?
1. Drive to Bitez harbour and park your car here
2. From the harbour there are two walking routes signposted. Take the 3 km route. The short one directly goes up hill but very soon the path becomes inaccessible.
3. Just past the harbour there is a small gate. Here the trail starts. Just follow the path. All the time you have the sea at your right hand.
4. At one point the path turns left away from the sea. Here you go uphill to reach the bays on the other side. On top of the hill is a white cisterne.
5. From the cisterne follow the trail to the left. At the end of the trail is Aquarium Bay.
Note: There is nothing here so must bring everything yourself (water, food etc). Except for only 1 tree there is also no shade.
Tip: Some turns towards the sea are marked with a red cross. Do not let it keep you from going there. Some are leading to some great places to swim. The only downside.... there is a lot of pollution on the beaches.
6. Pamukkale
A nice trip is an excursion to Pamukkale. When you have your own (rental) car it is advisable to drive there on day one stay the night in Pamukkale and drive back the next day. This will ensure you have enough time for the drives, it gives you the posibilities to also visit Pamukkale at the beginning of the evening when most of the crowds are gone and the light is at its most beautiful and also you have some extra time to visit some other interesting places in the area as well.
Pamukkale is a natural fenomenon about 4 hours drive (280 km) from Bodrum. Since ancient times warm calcite-laden water flows down the mountain forming natural white terraces. It is this wonder of nature that gave Pamukkale, which means "cotton castle", his name.
Close to the terraces you also find the ruins of the ancient city Hierapolis. The old amphitheatre is the best preserved and by far the most impressive building on site. During our travels we visited many theatres but this one was the best.
TIP: There are 3 entrances (north, south and center). The northern entrance is the best for visiting both the terraces and Hierapolis. When you stay the night we can recommend to revisit Pamukkale for the middle entrance about 1 - 1,5 hour before closing. De light during this time of the day makes great pictures. Just ask upfront until what time the site is open. In May 2019 it was open until 8 PM.
Note 1: An entry ticket is valid for the whole day so it is possible to revisit the site via a different entrance on the same day. Often guards try to sell you a new ticket but this is not needed. Just stand firm and explain your ticket is still valid.
Note 2: It is forbidden to walk on the terraces wearing shoes or flip-flops. All footwear must be taken off. You can leave your footwear at the beginning of the terraces or take it with you in a bag (you must bring the bag yourself).
Note 3 for overlanders: Opposite the entrance at the center, behing the pool, is a good camping spot!
Tip for staying the night: Sinter Terasse House Hotel. Cozy and very clean guesthouse within walking distance from the main street. Breakfast is inclused and of great value. The guesthouse also offers good dinner options home cooked by the owner herself who is a great cook. Just tell her in advance you would like to have dinner as (vegetarian options available) and you can make arrangements. Our food was delicious.
Route: Coming from Bodrum there are 2 options.
1. Via Mugla/Kale
2. Via Cine
We drove both routes. Via Mugla/Kale was more beautiful (landscape) and nicer (less busy traffic).
7. Laodikea
Not far from Pamukkale you will find Laodikea, and ancient city and one of the 7 churches mentioned in the Bible in the book of Revelation. Although excavations and restaurations are still going on the place is definitely worth a visit.
8. Aphrodisias
On your way to or from Pamukkale it is just a small detour to the ruins of Aphrodisias. Another ancient city. This World Heritage site is huge with a theatre, an arena, a pool and the famous temple of aphrodite goddess of love. Also very intersting is the museum that hold a stunning amount of statues all found at the site.